Day 1
(Arrival / Anuradhapura)
Upon your arrival in Sri Lanka you will be met and assisted at the airport by our representative who will transfer you to Anuradhapura for your first night. Anuradhapura is the most renowned of Sri Lanka's ancient ruined cities. This historic City's dome shaped dagabas constructed of small sun-dried bricks and still reminiscent of its past glory. The Ruvanveli dagaba which dates back to the 2nd Century BC is 300ft in diameter is the most prominent. The Jetawanarama is 370ft and the Thuparama enshrines the collarbone of the Buddha. The city's most revered relic is the sacred Bo-Tree which is said to have grown from a branch of the tree under which the Buddha gained enlightenment. This Bo-tree is the oldest historic tree in the world dating back 2500 years.
Meals: Dinner & Breakfast
Overnight stay at hotel in Anuradhapura

Day 2
(Anuradhapura / Mihintale / Anuradhapura)
After Breakfast do a city tour in Anuradhapura & proceed to Mihintale. Mihintale is a mountain peak in close proximity to Anuradhapura. This site (believed by Buddhists) is a meeting place between the Buddhist monk Mahinda and King Devanampiyatissa who later spread the message of Buddhism in Sri Lanka. You will see several religious monuments and abandoned structures in the area.
Meals: Dinner & Breakfast
Overnight stay at hotel in Anuradhapura

Day 3
(Anuradhapura / Sigiriya / Polonnaruwa)
After Breakfast at hotel Visit Sigiriya
Start your Climb up the fortress.
The 5th century rock fortress is a world heritage listed site, built by King Kashyapa in (477-495 AD). The 'Lion Rock' as it is called is a citadel of great beauty rising 200 metres from amidst the scrubs. Sigiriya was once a 70 hectare established town. A moat, rampart, and extensive gardens including the renowned water gardens surround the base of this rock. You will see the world-renowned frescoes of the 'Heavenly Maidens' of Sigiriya, sheltered along the rock wall which is approachable via a spiral stairway. These frescoes are believed to be painted in earth pigments plastered on the wall.
After decent continue your journey to Polonnaruwa.
Polonnaruwa - the capital of Sri Lanka dates back from 11th -13th century A.D. The monuments at Pollonaruwa have been well preserved. The circular relic house (Vata-da-ge) Lankathilaka, Thuparama, Royal Palace, Rankoth vihara and Galvihara with the beautiful rock-cut Buddha statues are amazing works of art.
Meals: Dinner & Breakfast
Overnight stay at hotel in Polonnaruwa.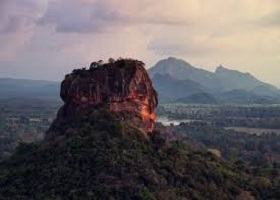 Day 4
(Polonnaruwa /Dambulla / Kandy)
After Breakfast proceed to Dambulla and visit the cave Temple.
Dambulla stands as an isolated rock mass 500ft high and a mile around the base. This rock temple dates back to the First Century BC. The caves of Dambulla sheltered the King Walagamba during his 14 years of exile from Anuradhapura. When he regained the throne he built the most magnificent of Rock Temples in Sri Lanka, at this site.
In the evening proceed to Kandy & visit the temple of the tooth.
Kandy - Sri Lanka's hill capital. Once a stronghold of the Sinhala Kings, is a very beautiful town. It is 488 meters above sea level and next to Colombo is Sri Lanka's most visited place. The main attraction of this town is without doubt the golden roofed Sacred Temple where the Tooth Relic of the Buddha is enshrined. There are many shrines and temples in and around Kandy, showcasing rare paintings, frescoes, wood and stone carvings.
Meals: Dinner & Breakfast
Overnight stay at hotel in Kandy.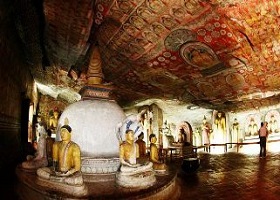 Day 5
(Kandy)
The mornings are quite cool and comfortable. This is the cultural capital and sacred city of Senkadagalapura, now called Kandy. Visit the Temple of the Gadaladeniya, Maha Vishnu devalaya, Bambaragala Viharaya, Embekke Devalaya & Bahiravakanda vihara Buddha statue.
Meals: Dinner & Breakfast
Overnight stay at hotel in Kandy.

Day 6
(Kandy-Colombo)
After Breakfast proceed to Colombo.
In the evening you can go for a pooja ceremony at Kelaniaya Raja Maha Viharaya.
Buddhists believe this temple to have been hallowed during the third and final visit of the Buddha to Sri Lanka, eight years after gaining enlightenment. Its history goes back to before 500 BCE.
Meals: Dinner & Breakfast
Overnight stay at hotel in Colombo.

Day 7
(Departure)
After breakfast you will be transfered to the Airport in time to connect with your departure flight.

Inclusions
Return flight ticket on Sri Lankan Airlines – Ex Delhi Economy Class.
Accommodation at the above mentioned Hotels or similar in STANDARD R00MS.
Breakfasts & Dinner at the hotel itself.
Transport in an A/C car with the service of an English-speaking chauffeur.
Sightseeing & Tours as per mentioned itinerary. (Without an entrance fees)
Meeting and Assistance at the airport.
Complementary SIM card on arrival.
Complementary Entrance ticket to Casino in Colombo.
Two complementary water bottle (500ml) each person each day.
Complementary Head and shoulder massage at Spice garden.
Complementary herbal drink or Sri Lankan tea at Gem work shop and.
Discount card for Clothing and Gem shopping.
Inter hotel transfers.
All tours and transfers are on private basis by car.
Exclusion
All entrance fees / Boat Ride / Jeep Safari cost.
Lunch on Tour.
Camera & video permits.