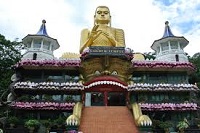 Dambulla, a part of Sri Lanka's Cultural Triangle is located in the North Central province of the island.

Famous for its cave temple complex, known as the Golden Temple of Dambulla, it is another UNESCO World Heritage site that you must not miss.The cave temple complex is the largest and the best preserved of its kind in Sri Lanka and is situated within a rock that towers 160 metres over the surrounding plains. A steep 20 minutes of walk will get you to the summit.

Located nearby Sigiriya, from its summit you can even see the famous rock fortress. For over 22 centuries, Dambulla cave temple has been a pilgrim site for Buddhist and has been occupied continuously by monks to this day.

There are 80 caves at the site, but the most important ones are located in five sanctuaries. These contain 150 Buddhist statues of various sizes belonging to different periods. The most spectacular of the caves are the 50m long Maharaja Vihara or the 'Temple of the Great Kings'. The Devaraja Viharava, houses a 14m long reclining Buddha statue carved out of solid rock.

This temple is the world's largest painted surface which belongs to antiquity, with intrinsic frescoes and inscriptions that carpet the rock walls and ceilings. The ensemble of caves also contain religious art representing the life of Buddha, battle scenes from stories and elaborate frescoes and inscriptions.

The ideal time to visit Dambulla is at early morning before the rock area gets heated by the sun, as you are not allowed to walk around the caves with your shoes on.
Popular Packages in Combination with Dambulla