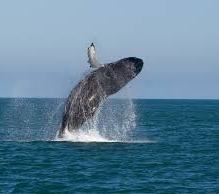 Sri Lanka's whale-watching hotspot, Mirissa is a picturesque fishing town, just a few minutes away from the main city Matara. Its crescent shaped sandy beach is surrounded by coves and palm trees, while the waters are perfect for a number of water sports. Mirissa is the largest fishing port on the south coast and is famed for its fresh tuna, mullet, snapper and butterfish. Mirissa provides the best location in Sri Lanka for whale watching. November to April is the best season for whale watching, which is when these majestic creatures are crossing the southern tip of Sri Lanka, the Dondra Point.

The peak season is from December to March, when the water off the coast is warm and calm, and perfect for migrating whales. Most sightings occur 3 – 6 miles off the coast, where you can witness the whales gracefully emerge from the water for air.

Mirissa is one of the top spots in the world for Sperm and Blue whales sightings, as they are frequently spotted here. In addition, you can spot pods of dolphins, such as Bottle-nose, Spinner and Risso's dolphins, particularly during January and April. Whale and dolphin watching excursions occur usually at early morning, and can last from 3 – 5 hours.

Mirissa is also famous for its two popular surfing spots, You can also go swimming, snorkeling and scuba diving in Mirissa, while deep sea fishing also tops the list.
Popular Packages in Combination with Mirissa