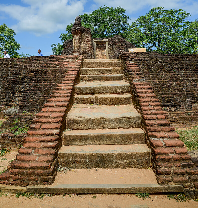 Polonnaruwa became the 2nd Kingdom Capital of Sri Lanka after the fall of Anuradhapura in 993 AD. It is a city of monumental ruins, Brahamanic legacy of the Cholas and the magnificent garden city created by Parakramabahu I in 12th century.

Another important UNESCO World Heritage Site on the island, it served as the capital of Sri Lanka from 11th century to 13th century.The city bears witness to the civilization Cholas built after their conquest and the astounding legacy created by Sinhala kings thereafter. Flourished in an epoch when Buddhist arts and architecture were taking centre stage, it is home to some of the most notable ancient structures, monolithic sculptures and stone carvings.Gigantic rock sculptures of Gal Vihara, the colossal image of Buddha at Lankathilaka, 13th century paintings depicting the life of Buddha at Thivanka Pilimage, Polonnaruwa Vatadage, Madirigiriya Vatadage and the ancient Rankoth Vehera stupa are some of the notable structures still standing superior. King Parakramabahu's triple-walled garden-city with palaces and sanctuaries is a stunning historic urban creation. The quadrangle at the heart of the city was the centrepiece and sacred precinct of ancient Polonnaruwa. It contains perhaps the most ornate buildings in Sri Lanka, the Polonnaruwa Vatadage. The circular shrine's ornate carvings, its moonstones and guardstones attract many visitors.

The massive reservoir constructed by Parakramabahu I, named Prakrama Samudraya (Sea of Parakrama) is Sri Lanka's largest ancient reservoir and a stupendous testimony to the ancient irrigation engineering on the island. The area in and around Polonnaruwa is ideal for spotting the Asian elephant. Minneriya and Kaudulla national parks, centred on extensive reservoirs and lakes attract a large number of elephants.

The two parks are linked by the "elephant corridor", designed to allow the animals to move from one park to the other. The gathering of elephants at the Minneriya National Park is a famous sight. Polonnaruwa can be done as day trip from Dambulla.

Destination Highlights:
Museum
Royal Place
Statue of King
Gal Viharaya Statue
Lankathilaka Temple
Thuparamaya, Shiva.
Popular Packages in Combination with Polonnaruwa